Online success is a fascinating subject. Is it brains that propels someone to crazy riches, or maybe a work ethic that simply won't quit?
I've seen plenty examples of both, and the backstory for the product I want to review today is a perfect example. Imagine a college wrestler who partners up with a buddy to sell a set of instructions for how to build a potato gun.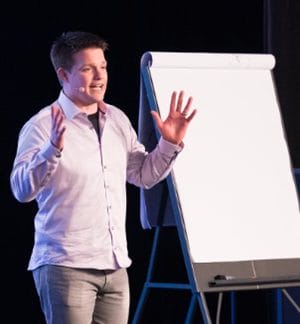 In any given town, there's a pretty limited market for such a thing but online? Well, it turns out to be the ideal place for Russell Brunson to launch an online career that has now grown to legendary proportions (and I'll tell you more about that a bit later).
What makes Brunson's success notable is that he has taken all those online lessons and built the ClickFunnels platform to enable many thousands of others to become wealthy online! It's a thriving community of tens of thousands of entrepreneurs who are rewriting the book on how to ditch the dead-end 9-5 job and make dreams come true.
Are You Making Money Online?
Here's the truth. Most people who are trying to make money online are either lazy, disorganized or swinging for the fences.  Sometimes it's a combo of all three and they're buying course after course, tool upon tool… scratching only the surface on each and failing to master ONE THING that solves the riddle.
If I could share with you the one secret to online business it is focus. Find someone who's rich (or rapidly getting there) and stalk everything they're doing relentlessly. No other distractions.  Just focus in.
My obsession is on Russell Brunson and his uber-popular tool, ClickFunnels.  I'm mastering every aspect of it, learning exactly how Russell presents to audiences, nearly memorizing his headlines and sales copy.
If you've failed to have success online, I encourage you to do the same.  Don't even consider another option until you can't find a single new thing to learn from Russell and ClickFunnels.
So, What is ClickFunnels?
It's an online subscription platform that allows solopreneurs with nothing more than basic tech skills to sell courses, coaching, even books or other physical products. ClickFunnels makes it super-easy to collect their payments and even stores their email addresses so you can continue marketing to them forever.
What Makes ClickFunnels Different From Other Ways to Sell Online?
Well, I'm glad you asked. To set up a proper description, let me first try to quickly tell you what a funnel is.. and why it's so much more powerful.
What's a Funnel?
It's probably best to start off by explaining what a funnel isn't, honestly. Let's take a look at how most business is still transacted online.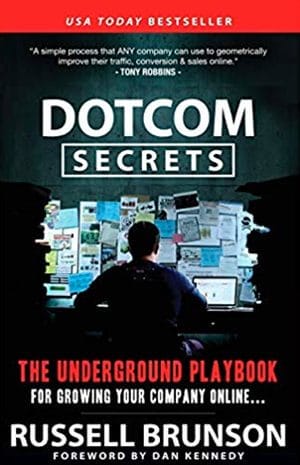 Let's say you're shopping online for a leather iPad case. You stumble on a site with a small but attractive selection and you put one in your cart. You hit the Checkout button and it takes you to the screen where you enter your address and payment details. Bang.. order placed.
A particularly astute store owner would probably have popped up an offer to sell you leather conditioner and cleaner before your business was done. And about 30% of online stores will email you during sales to see if you want whatever they have on offer.
Not surprisingly, response rates are pretty low. I mean, you already have your case and you've probably picked up a leather cleaner locally (if you even use one). The store, like most, missed an opportunity to solve your full range of needs and, because of that, they left good money on the table.
Russell Brunson realized early on that there's a lot more profit to be made by serving the full range of customer needs. This emphasis on being able to easily sell multiple things to the same buyer is called a funnel.
Sometimes the buying happens during one session. But often that requires maintaining a relationship over time so that your customer know exactly where to go when they're ready for that next step. Either way, the lifetime value of attracting a customer goes up significantly.
What makes ClickFunnels the best in the business is that any small business owner can jump in and learn super-effective funnel strategies in no time. Building on the platform is made easy by the absolutely unmatched training provided to subscribers.
How Do I Build a Funnel?
The best way to help you visualize this is to use one of Russell's own funnels as an example (and I'll link you to it below so you can see exactly how it functions).
So, at this point, Russell has published two bestselling books that teach various facets of what he's learned about funnel-building over the years. I have both of these books – Dotcom Secrets & Expert Secrets – and they are incredibly useful.
Each of them is offered for free by Brunson at the start of his funnels. On any given day, you can click that link below and pick one of them up. But the catch is that you have to pay the $7.95 shipping/handling.
That's not bad, as catches go, because it still costs less than buying the books through Amazon. So, it's kind of a no-brained.
You enter your address and click a button that says Special Offer Click Here and suddenly an offer pops up to add the audiobook version for $37. That's certainly not "cheap" but, if you're a non-reader, it might be just what you want to consume the material in your favorite form!
Here's where it REALLY snowballs, though. Whether you add the audiobook or not, after entering your payment details and pressing the buy button, you're presented with the first of several "upsell" offers that build on your obvious interest in creating your own online empire.
You'll be offered additional books, courses… each at rapidly increasing cost. It's almost intoxicating, honestly. You're swept up in videos and images that make it hard to say no.
Welcome to the Magic of Funnels
Here's where the math gets exciting. If someone opts in to all the immediate offers in Russell's book funnel, the total cost will be more than $500. Pretty outstanding considering you thought you were getting a "free" book, right?
But wait… there's more! After you finish the initial buying frenzy, there'll be an email in your inbox. It lets you know that your book will ship soon and offers you private access to a bonus training video that you can watch right away.
That video of Russell going into detail about how funnels work so beautifully culminates in a $2,000 pitch to join ClickFunnels and get all kinds of training on top. If just one person in 20 takes him up on that offer it adds ANOTHER $100 to the average revenue of that funnel.
So, there you have the true magic of funnels. String a bunch of offers together and you will never want to market the traditional way again!
Is ClickFunnels for Advanced Users?
For this, I'll use myself as an example. I'm a copywriter by profession. While I can login to a platform like WordPress and post things I've written, I'm not ever going to be able to optimize a website or install SSL certificates and a million other deep technical things it needs.
But I sure can build a funnel. Most of the effort is in either recording a video(s) for what you're selling or, like in my case, writing a sales letter that goes on the page. Easy peasy either way.
The rest is adding buy buttons or photos, and ClickFunnels built a beautiful drag and drop interface to do all that. You just log in and start dragging things into place.
Why Do I Think ClickFunnels Is the Best?
I've been in this digital marketing game for many years now. And there's one thing I've seen stop the majority of would-be entrepreneurs dead in their tracks – confusion.
It took a lot of time and money to build the platform, but it took even more time to create the amazing support system provided to users. There are two online sessions every single day of the week to walk you through every aspect of funnel creation.
Imagine all the step by step training you'll ever need in one place?Now, ClickFunnels is not the cheapest funnel builder out there. There's just two subscription levels – at about $100 or $300 per month depending on how much help and capacity you require.
But you'll never feel confused.
Honestly, there is non-stop training in how to create funnels inside the membership. And at the $300/month level, there's an epic selection of training called FunnelFlix that has training by the likes of Jay Abraham and Tony Robbins on how to create products and sell them successfully, too.
One Final Word… and a Suggestion
ClickFunnels is the undisputed answer if you absolutely MUST get beyond the 9-5 grind of working for yourself. There's truly nothing left out that you need to mimic Russelll Brunson or the thousands of millionaires that he's trained.
But let me suggest that you start the way I did. You'll probably think I'm a pretty crappy marketer for suggesting this plan, but I think it will maximize what you get for your money.
And money does not grow on trees (just funnels!
Step 1 – go HERE and pay the $7.95 to have them ship you a copy of Dotcom Secrets. If you don't like to read, go ahead and pay up for the audiobook version – the most crucial part of this step is making sure you learn what's in this book! It's golden.
Don't buy ANY THING ELSE in this funnel. Just get the book and read it.
Step 2 – go HERE and pay the $7.95 to have them ship you a copy of Expert Secrets. If you don't like to read, go ahead and pay up for the audiobook version – the most crucial part of this step is making sure you learn what's in this book! It's golden.
Don't buy ANY THING ELSE in this funnel. Just get the book and read it.
Step 3 – Once you have the books (or audio versions), sign up for the Challenge here to learn exactly how to build your first funnel (or two) in a group setting and with world-class instruction.
NOTE: The Challenge costs about $100 but you'll have the opportunity to pay another $20 to have them ship all the course materials to you in physical form. DO IT… it made taking the challenge so much better!
Step 4 – When the Challenge gets to the building stage, join the free ClickFunnels trial HERE. This will give you all the opportunity you need to see how powerful and easy it is without spending significant money.
That's it.
I hope this review encourages you to make a better life for you and your family. It might not be less work than having a day job, but it sure is more fun and it pays wayyyyyyy more.
I think I've laid out the steps that will save you the most money as you get underway, without jeopardizing what you need to have to grow quickly.
The main takeaway is this: Russell Brunson is a legitimate rockstar in online marketing. Even better, he has been willing to share all the secrets that got him there AND build a platform that helps you avoid a dreadful tech learning curve (or spending tens of thousands of dollars on a developer staff).
Go out and make offers happen. Make your life infinitely richer and then help others achieve their dreams, too.